Pivot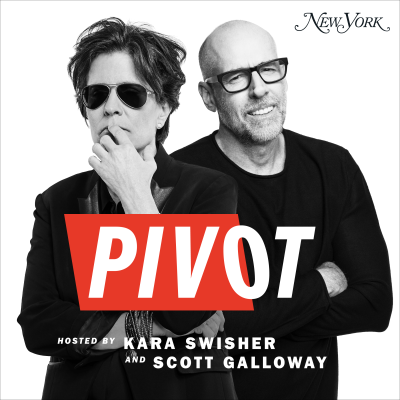 Every Tuesday and Friday, tech journalist Kara Swisher and NYU Professor Scott Galloway offer sharp, unfiltered insights into the biggest stories in tech, business, and politics. They make bold predictions, pick winners and losers, and bicker and banter like no one else. After all, with great power comes great scrutiny. From New York Magazine and the Vox Media Podcast Network.
Website : nymag.com/pivot
IPFS Feed : https://ipfspodcasting.net/RSS/83/Pivot.xml
Last Episode : September 22, 2023 6:00am
Last Scanned : 1.9 hours ago
Episodes
Episodes currently hosted on IPFS.
Rupert, Russell, and a Looming Shutdown
As Rupert Murdoch announces his retirement, Kara and Scott discuss the future of the media mogul's empire and his legacy. They also react to the Russell Brand controversy, and Elon's plan for a Twitter paywall. Then, there's chaos in Congress as a shutdown approaches, so why is everyone talking about the Senate dress code? Follow us on Instagram and Threads at @pivotpodcastofficial. Follow us on TikTok at @pivotpodcast. Send us your questions by calling us at 855-51-PIVOT, or at nymag.com/pivot. Learn more about your ad choices. Visit podcastchoices.com/adchoices
Expires in 27 hours
Published Friday