The Beet: A Podcast For Plant Lovers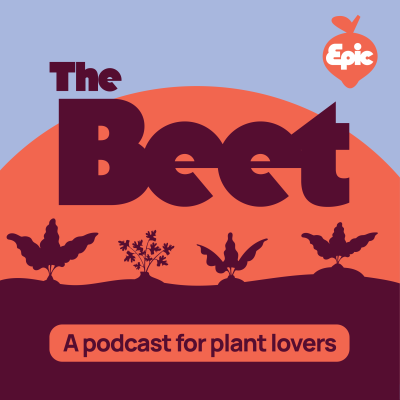 The Beet started as the Epic Gardening Podcast, but has grown into a one-stop shop for plant lovers. Five days a week, we explore topics ranging from beginner gardening tips to in-depth discussions with industry and science experts. Here, we'll open up new gardening horizons, inspire you to greater heights, share new and exciting discoveries in agriculture, and fill your mind with freshly-harvested information you can apply to your own gardening journey!
Website : https://epicgardening.libsyn.com/rss
IPFS Feed : https://ipfspodcasting.net/RSS/425/TheBeet:APodcastForPlantLovers.xml
Last Episode : September 22, 2023 7:00am
Last Scanned : 5.2 hours ago
Episodes
Episodes currently hosted on IPFS.
Vertically Integrated Farming
There are serious benefits to raising and processing your own cattle on your own ranch. Not only does it simplify the process of slaughter, but it also consolidates roles of ranching. This, and the benefit to consumers is how vertically integrated farming has a positive impact.  Epic Gardening Shop Homepage: https://growepic.co/3Pltszd Botanical Interests Shop Homepage: https://growepic.co/3ZrRUU7 Book Collection Page: https://growepic.co/3ZlAQ2c EG Homesteading Book: https://growepic.co/3LvygB0 Connect With Will Harris: Will Harris is a fourth-generation cattleman, who tends the same land that his great-grandfather settled in 1866. Born and raised at White Oak Pastures, Will left home to attend the University of Georgia's School of Agriculture, where he was trained in the industrial farming methods that had taken hold after World War II. Will graduated in 1976 and returned to Bluffton where he and his father continued to raise cattle using pesticides, herbicides, hormones, and antibiotics. They also fed their herd a high-carbohydrate diet of corn and soy. In the mid-1990s Will became disenchanted with the excesses of these industrialized methods. They had created a monoculture for their cattle, and, as Will says, "nature abhors a monoculture." In 1995, Will made the audacious decision to return to the farming methods his great-grandfather had used 130 years before.  Instagram Website Facebook YouTube Twitter Shop the Store As an exclusive for listeners, use code THEBEET for 5% off your entire order on our store, featuring our flagship Birdies Raised Beds. These are the original metal raised beds, lasting up to 5-10x longer than wooden beds, are ethically made in Australia, and have a customizable modular design.   Shop now and get 5% off your first order. Get Our Books Looking for a beginner's guide to growing food in small spaces? Kevin's book, Field Guide to Urban Gardening, explains the core, essential information that you'll need to grow plants, no matter where you live! He also wrote Grow Bag Gardening to provide you with specialized knowledge that can bring you success when growing in fabric pots. Preorder Kevin's newest book Epic Homesteading if you are looking to turn your home into a thriving homestead!  Order signed copies of Kevin's books, plus more of his favorite titles in our store. More Resources Looking for more information? Follow us: Our Blog YouTube (Including our Epic Homesteading and Jacques in the Garden channels) Instagram (Including Epic Homesteading, and Jacques) TikTok Facebook Facebook Group Discord Server
Expires in 29 hours
Published Friday
Animal Welfare
In regenerative animal husbandry, like Will Harris's White Oak Pastures, animals live according to their nature. This model is an expansion of the industrial one, where meeting basic needs is the only concern. He can tell from their expression that his animals are happy, and that is because of his focus on their welfare. Epic Gardening Shop Homepage: https://growepic.co/3LrrcFo Botanical Interests Shop Homepage: https://growepic.co/3sZNdVD Book Collection Page: https://growepic.co/3RlaE5O EG Homesteading Book: https://growepic.co/3Pqb4W0 Connect With Will Harris: Will Harris is a fourth-generation cattleman, who tends the same land that his great-grandfather settled in 1866. Born and raised at White Oak Pastures, Will left home to attend the University of Georgia's School of Agriculture, where he was trained in the industrial farming methods that had taken hold after World War II. Will graduated in 1976 and returned to Bluffton where he and his father continued to raise cattle using pesticides, herbicides, hormones, and antibiotics. They also fed their herd a high-carbohydrate diet of corn and soy. In the mid-1990s Will became disenchanted with the excesses of these industrialized methods. They had created a monoculture for their cattle, and, as Will says, "nature abhors a monoculture." In 1995, Will made the audacious decision to return to the farming methods his great-grandfather had used 130 years before. Instagram Website Facebook YouTube Twitter Shop the Store As an exclusive for listeners, use code THEBEET for 5% off your entire order on our store, featuring our flagship Birdies Raised Beds. These are the original metal raised beds, lasting up to 5-10x longer than wooden beds, are ethically made in Australia, and have a customizable modular design.   Shop now and get 5% off your first order. Get Our Books Looking for a beginner's guide to growing food in small spaces? Kevin's book, Field Guide to Urban Gardening, explains the core, essential information that you'll need to grow plants, no matter where you live! He also wrote Grow Bag Gardening to provide you with specialized knowledge that can bring you success when growing in fabric pots. Preorder Kevin's newest book Epic Homesteading if you are looking to turn your home into a thriving homestead!  Order signed copies of Kevin's books, plus more of his favorite titles in our store. More Resources Looking for more information? Follow us: Our Blog YouTube (Including our Epic Homesteading and Jacques in the Garden channels) Instagram (Including Epic Homesteading, and Jacques) TikTok Facebook Facebook Group Discord Server
Expires in 9 hours
Published Thursday