Farm Small Farm Smart Daily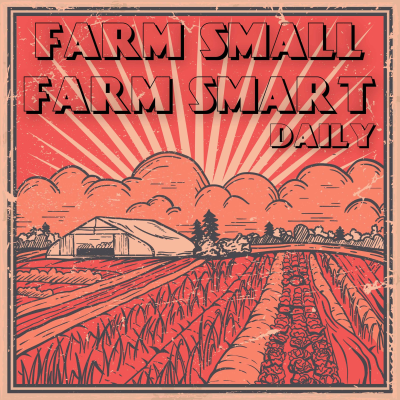 Daily farm and garden talk. All about growing vegetables profitably and efficiently on small farms and in gardens. Each episode focuses on one specific topic - growing practices, how-to, farming challenges and struggles, sales and marketing, soil preparation, weed management, farm startup, market selection, and work-life balance. Hosted and produced by Diego Footer's Modern Grower Podcast Network.
Website : https://www.paperpot.co
IPFS Feed : https://ipfspodcasting.net/RSS/424/FarmSmallFarmSmartDaily.xml
Last Episode : September 22, 2023 8:00am
Last Scanned : 6.2 hours ago



Episodes
Episodes currently hosted on IPFS.
Winter in the First Year of Farming
In this episode, farming couple Troy and Cindy Dickens share their experiences during their first winter of farming.  Make farming easier with the Paperpot Transplanter and Other Small Farm Equipment at https://www.paperpot.co/ Follow PaperpotCo on IG https://instagram.com/paperpotco Podcasts by Diego Footer: Microgreens: https://apple.co/2m1QXmW Vegetable Farming: https://apple.co/2lCuv3m Livestock Farming: https://apple.co/2m75EVG Large Scale Farming: https://apple.co/2kxj39i Small Farm Tools https://www.paperpot.co/
Expires in 28 hours
Published Friday
Transitioning to Organic
In this episode, one of the first purveyors of organic growing in America, Scott Murray, talks about the time and work that goes into transitioning a farm to organic practices.  Make farming easier with the Paperpot Transplanter and Other Small Farm Equipment at https://www.paperpot.co/ Follow PaperpotCo on IG https://instagram.com/paperpotco Podcasts by Diego Footer: Microgreens: https://apple.co/2m1QXmW Vegetable Farming: https://apple.co/2lCuv3m Livestock Farming: https://apple.co/2m75EVG Large Scale Farming: https://apple.co/2kxj39i Small Farm Tools https://www.paperpot.co/
Expires in 65 minutes
Published Thursday
Insect Pressure in a High Tunnel

3
In this episode, veteran farmer Nicolas Donck shares how they deal with insect pressure on beds under their high tunnels.  Make farming easier with the Paperpot Transplanter and Other Small Farm Equipment at https://www.paperpot.co/ Follow PaperpotCo on IG https://instagram.com/paperpotco Podcasts by Diego Footer: Microgreens: https://apple.co/2m1QXmW Vegetable Farming: https://apple.co/2lCuv3m Livestock Farming: https://apple.co/2m75EVG Large Scale Farming: https://apple.co/2kxj39i Small Farm Tools https://www.paperpot.co/
Published Wednesday
Hiring for the Highest Return of Effort

3
In this episode, microgreens grower Laura Patterson talks about approaching hiring from the highest return perspective.  Make farming easier with the Paperpot Transplanter and Other Small Farm Equipment at https://www.paperpot.co/ Follow PaperpotCo on IG https://instagram.com/paperpotco Podcasts by Diego Footer: Microgreens: https://apple.co/2m1QXmW Vegetable Farming: https://apple.co/2lCuv3m Livestock Farming: https://apple.co/2m75EVG Large Scale Farming: https://apple.co/2kxj39i Small Farm Tools https://www.paperpot.co/
Published Tuesday
Staying the Same vs. Pulling the Trigger

3
In this episode, Javan Bernakevitch weighs out what staying the same will do versus taking the risk and pulling the trigger.  Make farming easier with the Paperpot Transplanter and Other Small Farm Equipment at https://www.paperpot.co/ Follow PaperpotCo on IG https://instagram.com/paperpotco Podcasts by Diego Footer: Microgreens: https://apple.co/2m1QXmW Vegetable Farming: https://apple.co/2lCuv3m Livestock Farming: https://apple.co/2m75EVG Large Scale Farming: https://apple.co/2kxj39i Small Farm Tools https://www.paperpot.co/
Published Sunday
Mechanizing & Standardizing Row Spaces

3
In this episode, farmer Dean Buttacavoli shares why they decided to ditch standard beds and instead standardize row spacing while also mechanizing tasks on their farm.  Make farming easier with the Paperpot Transplanter and Other Small Farm Equipment at https://www.paperpot.co/ Follow PaperpotCo on IG https://instagram.com/paperpotco Podcasts by Diego Footer: Microgreens: https://apple.co/2m1QXmW Vegetable Farming: https://apple.co/2lCuv3m Livestock Farming: https://apple.co/2m75EVG Large Scale Farming: https://apple.co/2kxj39i Small Farm Tools https://www.paperpot.co/
Published 09/16
Issues with a Fiefdom Model

3
In this episode, the Urban Farmer Curtis Stone shares some drawbacks of the fiefdom model in market gardening.  Make farming easier with the Paperpot Transplanter and Other Small Farm Equipment at https://www.paperpot.co/ Follow PaperpotCo on IG https://instagram.com/paperpotco Podcasts by Diego Footer: Microgreens: https://apple.co/2m1QXmW Vegetable Farming: https://apple.co/2lCuv3m Livestock Farming: https://apple.co/2m75EVG Large Scale Farming: https://apple.co/2kxj39i Small Farm Tools https://www.paperpot.co/
Published 09/15
Selling Mushrooms to Chefs

3
In this episode, mushroom grower John Findlay talks about selling mushrooms to chefs: what worked and what didn't.  Make farming easier with the Paperpot Transplanter and Other Small Farm Equipment at https://www.paperpot.co/ Follow PaperpotCo on IG https://instagram.com/paperpotco Podcasts by Diego Footer: Microgreens: https://apple.co/2m1QXmW Vegetable Farming: https://apple.co/2lCuv3m Livestock Farming: https://apple.co/2m75EVG Large Scale Farming: https://apple.co/2kxj39i Small Farm Tools https://www.paperpot.co/
Published 09/14
Predator Insect vs. Parasites

3
In this episode, Sheri Frey of Arbico Organics discusses the difference between predator insects and parasites.  Make farming easier with the Paperpot Transplanter and Other Small Farm Equipment at https://www.paperpot.co/ Follow PaperpotCo on IG https://instagram.com/paperpotco Podcasts by Diego Footer: Microgreens: https://apple.co/2m1QXmW Vegetable Farming: https://apple.co/2lCuv3m Livestock Farming: https://apple.co/2m75EVG Large Scale Farming: https://apple.co/2kxj39i Small Farm Tools https://www.paperpot.co/
Published 09/13
Taking Time Off When Productivity Starts to Fall

3
In this episode, farmer Taylor Mendell talks about the importance of taking a breather when productivity starts falling short.  Make farming easier with the Paperpot Transplanter and Other Small Farm Equipment at https://www.paperpot.co/ Follow PaperpotCo on IG https://instagram.com/paperpotco Podcasts by Diego Footer: Microgreens: https://apple.co/2m1QXmW Vegetable Farming: https://apple.co/2lCuv3m Livestock Farming: https://apple.co/2m75EVG Large Scale Farming: https://apple.co/2kxj39i Small Farm Tools https://www.paperpot.co/
Published 09/12
Shopify's Improvements in Functionality

3
In this episode, farmer Dan Brisebois talks about the noticeable improvements in the features and functionality of Shopify as a selling platform.  Make farming easier with the Paperpot Transplanter and Other Small Farm Equipment at https://www.paperpot.co/ Follow PaperpotCo on IG https://instagram.com/paperpotco Podcasts by Diego Footer: Microgreens: https://apple.co/2m1QXmW Vegetable Farming: https://apple.co/2lCuv3m Livestock Farming: https://apple.co/2m75EVG Large Scale Farming: https://apple.co/2kxj39i Small Farm Tools https://www.paperpot.co/
Published 09/11
Forward Thinking with Lists

3
In this episode, grower Alex Bertsch talks about how creating lists allows him to do some forward thinking in his business.  Make farming easier with the Paperpot Transplanter and Other Small Farm Equipment at https://www.paperpot.co/ Follow PaperpotCo on IG https://instagram.com/paperpotco Podcasts by Diego Footer: Microgreens: https://apple.co/2m1QXmW Vegetable Farming: https://apple.co/2lCuv3m Livestock Farming: https://apple.co/2m75EVG Large Scale Farming: https://apple.co/2kxj39i Small Farm Tools https://www.paperpot.co/
Published 09/10