The Food Chain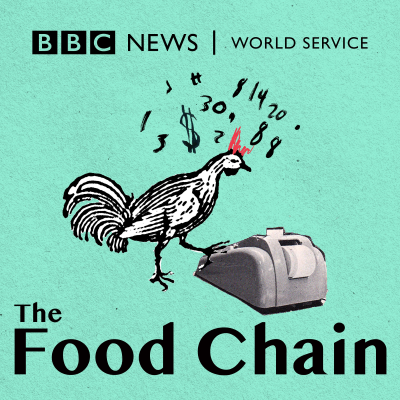 The Food Chain examines the business, science and cultural significance of food, and what it takes to put food on your plate.
Website : http://www.bbc.co.uk/programmes/p028z2z0
IPFS Feed : https://ipfspodcasting.net/RSS/275/TheFoodChain.xml
Last Episode : September 20, 2023 7:00pm
Last Scanned : 4.9 hours ago
Episodes
Episodes currently hosted on IPFS.
What's in a national dish?
Many dishes have become famous national symbols both at home and abroad, for example Italian pizza, or British fish and chips. Whilst such dishes can create a sense of unity and identity, they can also be used to fuel nationalism, or to push a political agenda. In this edition of The Food Chain, Izzy Greenfield hears the stories behind some of the most famous national foods, some based more on myth or marketing than historical fact. She speaks to Anya Von Bremzen, author of 'National Dish', in which Anya investigates the origins of foods such as Italian pizza, Japanese noodles, Spanish tapas and Mexican tortillas. The Secretary of the Convention for the Safeguarding of Intangible Cultural Heritage at UNESCO, Tim Curtis, explains why some dishes are recognised for the community practices that surround them. Andrew Crook, President of the National Federation of Fish Fryers in the UK, and food historian Professor Panikos Panayi from DeMontfort University in Leicester, England, explain the complex history behind fish and chips. If you would like to get in touch with the programme, email thefoodchain@bbc.co.uk Presented by Izzy Greenfield. Produced by Beatrice Pickup. (Image:takeaway fish and chips with a union jack flag on a cocktail stick. Credit: BBC)
Expires in 46 hours
Published Wednesday
The taste test
Consumers have the buying power but how much are they considered when a brand decides to make a change? In this edition of The Food Chain Ruth Alexander takes a look at what goes into developing some of the products we know and love. We travel to the northwest of England to a consumer taste testing facility, Wirral Sensory Services. Such businesses would have been few and far between just decades ago but now they're a big part of the research process when brands look to launch new products or make changes to existing ones. Consumer expert Dr Sara Jaeger tells us about the benefits and the limitations of these tests and business consultant Samuel West talks us through some of the most well know failures in food. If you would like to get in touch with the show, please email: thefoodchain@bbc.co.uk Presenter: Ruth Alexander Producer: Hannah Mullane (Image: a woman blindfolded, sat in front of a pizza. Credit: Getty Images/BBC)
Expires in 27 hours
Published 09/13