The Matt Walsh Show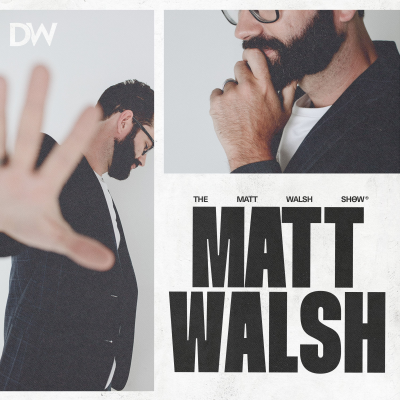 Fed up with the talking heads? Matt gives you a no-holds-barred take on today's cultural, religious, and political issues. Monday thru Friday.
Website : https://www.dailywire.com/show/the-matt-walsh-show
IPFS Feed : https://ipfspodcasting.net/RSS/200/TheMattWalshShow.xml
Last Episode : September 22, 2023 2:30pm
Last Scanned : 1.5 hours ago
Episodes
Episodes currently hosted on IPFS.
Ep. 1228 - Is The Anti-Racism Grift Collapsing?
Today on the Matt Walsh Show, things are falling apart for the race grifter now known as "Ibram X Kendi." He's just the latest anti-racist con artist to be exposed in recent years. Is the anti-racist scam falling apart? We'll discuss. Also, John Fetterman cries over being bullied for his disability. Inmates claim cruel and unusual punishment when they are forced to work in the fields rather than sitting in a cell all day. And a Daily Show clip goes viral where Trevor Noah tries every so cautiously to push back against a babbling trans activist. Ep.1228 - - -  Click here to join the member exclusive portion of my show: https://utm.io/ueSEm   - - -  DailyWire+: Want to work at The Daily Wire? For more information, click here and select "Careers": https://bit.ly/3JR6n6d Watch Episodes 1-5 of Convicting a Murderer here: https://bit.ly/3RbWBPL Represent the Sweet Baby Gang by shopping my merch here: https://bit.ly/3EbNwyj  - - -  Today's Sponsors: Ruff Greens - Get a FREE Jumpstart Trial Bag http://www.RuffGreens.com/MattOr call 844-RUFF-700 American Financing - To get started, call (866) 721-3300 or visit https://www.americanfinancing.net/. - - - Socials:  Follow on Twitter: https://bit.ly/3Rv1VeF Follow on Instagram: https://bit.ly/3KZC3oA Follow on Facebook: https://bit.ly/3eBKjiA Subscribe on YouTube: https://bit.ly/3RQp4rs
Expires in 33 hours
Published Friday
Ep. 1227 - Howard Stern Enjoys Immunity While Russell Brand's Career Is Destroyed
Today on the Matt Walsh Show, the UK government is now pushing Big Tech companies to demonetize Russell Brand even though he hasn't been convicted, or even charged, with anything. But there's a stark contrast between Russell Brand's treatment and other famous celebrities who have even more troubled histories. Also, the media now admits that the Bud Light boycott was one of the most effective boycotts in all of US history. Plus, a new survey reveals that many Americans can't even name one branch of government. And yet somehow they're still allowed to vote. And a famous left wing comedian has made a career out of his elaborate stories of victimhood. It turns out that it was mostly made up. Ep.1227 - - -  Click here to join the member exclusive portion of my show: https://utm.io/ueSEm   - - -  DailyWire+: Watch Episodes 1-5 of Convicting a Murderer here: https://bit.ly/3RbWBPL Become a DailyWire+ member to watch shows, documentaries, movies, and more : https://bit.ly/3JR6n6d Represent the Sweet Baby Gang by shopping my merch here: https://bit.ly/3EbNwyj - - -  Today's Sponsors: ExpressVPN - Get 3 Months FREE of ExpressVPN: https://bit.ly/3VeHvZM  Headrest Safe - Save $100 today with code WALSH at http://www.theheadrestsafe.com  - - - Socials: Follow on Twitter: https://bit.ly/3Rv1VeF Follow on Instagram: https://bit.ly/3KZC3oA Follow on Facebook: https://bit.ly/3eBKjiA Subscribe on YouTube: https://bit.ly/3RQp4rs
Expires in 13 hours
Published Thursday