Timcast IRL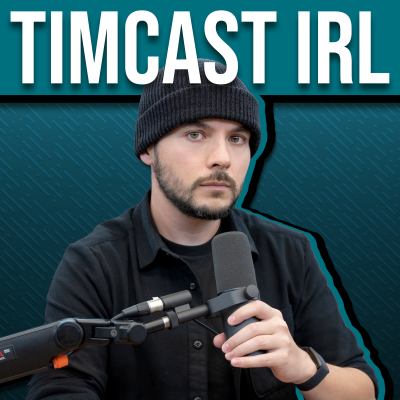 Timcast IRL features Tim Pool and guests discussing issues in culture, news, and politics. Featuring Ian Crossland as co-host and Serge Dotcom as live producer.
Website : https://timcast.com/
IPFS Feed : https://ipfspodcasting.net/RSS/194/TimcastIRL.xml
Last Episode : September 22, 2023 10:29pm
Last Scanned : 6.1 hours ago


Episodes
Episodes currently hosted on IPFS.
Timcast IRL #867 Democrat Senator INDICTED On Bribery Charges, Dem Mayor QUITS, Joins GOP w/Vince Dao
Tim, Ian, Phil, & Kellen join Vince Dao to discuss a democratic senator being indicted on bribery charges, the Mayor of Dallas quitting the Democrat party to join the Republicans, & why global elites are pushing for WW3. Learn more about your ad choices. Visit megaphone.fm/adchoices
Expires in 43 hours
Published Friday
Timcast IRL #866 US SHUTDOWN IMMINENT, Spending BLOCKED, McCarthy FAILS w/Ami Horowitz & Matt Gaetz
Tim, Ian, & Carter join Ami Horowitz & Matt Gaetz to discuss the US govt. heading towards a shut down, Biden's lawyers involved in trying to impeach Ken Paxton, Trump hitting record support among Black & Latino voters in a new poll, and a new intelligence report suggesting Russia has effectively won the Ukraine war & the White House is lying about it. Learn more about your ad choices. Visit megaphone.fm/adchoices
Expires in 16 hours
Published Thursday

2
Timcast IRL #865 Russell Brand Conspiracy PROVEN TRUE, UK GOV CAUGHT Targeting Him w/Harrison Smith
Tim, Phil, & Carter join Chef Andrew Gruel & Harrison Smith to discuss the UK admitting it's going after Russell Brand, allegations against Tim Ballard surfacing only after he announces a run for Senate, Howard Stern promising his listeners that he is woke, & NeuraLink announcing it's beginning human trials. Learn more about your ad choices. Visit megaphone.fm/adchoices
Published Wednesday

1
Timcast IRL #863 Russell Brand Hit By MATRIX ATTACK, Cancels Tour Amid Me Too Scandal w/Adelitas Way
Tim, Ian, Hannah Claire, & Carter join Adelitas Way to discuss Russell Brand being targeted suddenly by a flurry of sexual assault allegations, insane theories suggesting Russell Brand started his podcast as an elaborate defense against me too allegations, the US completely losing track of an F35, & the island of Lampedusa being overwhelmed by 12,00 migrants. Learn more about your ad choices. Visit megaphone.fm/adchoices
Published Monday

2
Timcast IRL #862 Democrat Governor Makes NEW DECREE To BAN GUNS AGAIN w/Ashley St Clair & Alex Stein
Tim, Ian, Phil, & Serge join Ashley St Clair and Alex Stein to discuss the Democrat New Mexico governor making another attempt to ban guns, the men in the Gretchen Whitmer kidnapping case being acquitted and protestors confronting AOC over the immigration crisis in New York. Learn more about your ad choices. Visit megaphone.fm/adchoices
Published 09/15

2
Timcast IRL #861 Hunter Biden INDICTED, Democrats Say Biden May DROP OUT Of 2024 Race w/Katy Faust
Tim, Ian, Hannah Claire, & Serge join Katy Faust to discuss Hunter Biden being indicted on federal gun charges, Kevin McCarthy slamming a reporter for not understanding the Biden impeachment, CNN roasting Joe Biden for lying about his life, and Nancy Pelosi saying she hopes Joe Biden runs in 2024 signaling a chance he might drop out of the presidential race. Learn more about your ad choices. Visit megaphone.fm/adchoices
Published 09/14

1
Timcast IRL #860 Federal Judge SHUTS DOWN Democrat Gun Ban In New Mexico, WE ARE WINNING w/Malcolm Flex
Tim, Ian, Phil, & Serge join Malcolm Flex to discuss a federal judge striking down New Mexico's ban on carrying guns, the Biden Administration requesting media companies be more critical of Joe Biden's impeachment, & Mexico revealing "proof" that aliens exist. Learn more about your ad choices. Visit megaphone.fm/adchoices
Published 09/13

1
Timcast IRL #859 Biden Impeachment HAS BEGUN, GOP Begins Process w/Monica Crowley & Owen Shroyer
Tim, Phil, & Serge join Monica Crowley & Owen Shroyer to discuss Republicans launching an official impeachment inquiry into Joe Biden, a viral video of John Fetterman mocking the potential impeachment of Biden, New Mexico's AG refusing to defend the governors ban on carrying guns, & the US investigating Elon Musk for not supporting the war in Ukraine. Learn more about your ad choices. Visit megaphone.fm/adchoices
Published 09/12

2
Timcast IRL #858 Gun Owners DEFY Democrat Gun Ban, Sheriff REFUSES To Enforce NM Decree w/Libby Emmons
Tim, Ian, Hannah Claire, & Serge join Libby Emmons to discuss gun owners defying New Mexico's Governor's unconstitutional gun ban, InfoWars Host, Owen Shroyer, responding to ridiculous J6 charges, Joe Biden becoming the first president to not attend the 9/11 memorial ceremony in NYC, & Joe Biden lying about being at Ground Zero the day after the September 11th attacks. Learn more about your ad choices. Visit megaphone.fm/adchoices
Published 09/11

2
Timcast IRL #857 New Mexico Just DECREED GUNS ILLEGAL, Democrat SUSPENDS Possession
Tim, Ian, Phil, & Carter join Brandon Herrera to discuss New Mexico's governor making gun possession illegal by declaring gun violence a public health emergency, a Georgia Grand Jury voting to indict Georgia politicians connected to Trump, & the ladies of The View complaining about immigration despite NYC being a sanctuary city. Learn more about your ad choices. Visit megaphone.fm/adchoices
Published 09/08