One Minute Scripture Study: A Come Follow Me Podcast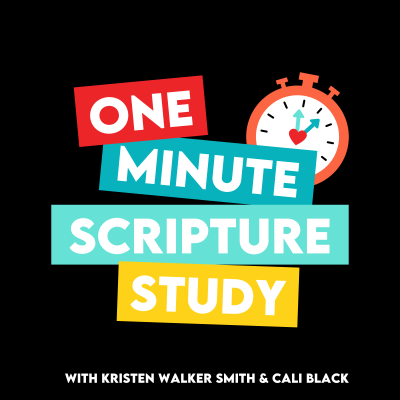 Quality Come Follow Me scripture study in ONE minute? It's possible! This podcast is for busy LDS teens, moms, families, and anyone else who finds themself WANTING quality scripture study but LACKING the time! Enjoy five 1 minute study sessions a week plus a "Big Picture Monday" to help you understand where we are in the scriptures.
Website : http://oneminutescripturestudy.libsyn.com/website
IPFS Feed : https://ipfspodcasting.net/RSS/144/OneMinuteScriptureStudy:AComeFollowMePodcast.xml
Last Episode : September 22, 2023 4:00am
Last Scanned : 6.3 hours ago

Episodes
Episodes currently hosted on IPFS.
1275: The scripture that changed my life, 2 Corinthians 8–13
Today we're studying 2 Corinthians 12:7-9 in just one minute! Grab your scriptures and let's dive into them together!   Get our 365-day New Testament daily devotional book: https://amzn.to/3BTEQfA (affiliate link)   Get your free copy of the simplified New Testament outline here: https://kristenwalkersmith.com/new-testament-simplified/    And grab Cali's scripture study guide here: https://comefollowmestudy.com/shop/ Discount code: OMSS Or for a physical copy:  https://amzn.to/48nGrsL (affiliate link)
Expires in 21 hours
Published Friday
1274: Is this Church Complicated?, 2 Corinthians 8–13
Is this gospel complicated? I've actually had a change of heart with my answer of the years. Let's study 2 Corinthians 11:3 together!    Get our 365-day New Testament daily devotional book: https://amzn.to/3nYC821 (affiliate link)   Get your free copy of the simplified New Testament outline here: https://kristenwalkersmith.com/new-testament-simplified/    And grab Cali's scripture study guide here: https://comefollowmestudy.com/shop/ Discount code: OMSS Or for a physical copy:  https://amzn.to/3ZwLIdP  (affiliate link)
Expires in 13 hours
Published Thursday
1273: Miracles dressed in overalls, 2 Corinthians 8–13

1
Today we're studying 2 Corinthians 11:33 in just one minute! Grab your scriptures and let's dive into them together!   Get our 365-day New Testament daily devotional book: https://amzn.to/3BTEQfA (affiliate link)   Get your free copy of the simplified New Testament outline here: https://kristenwalkersmith.com/new-testament-simplified/    And grab Cali's scripture study guide here: https://comefollowmestudy.com/shop/ Discount code: OMSS Or for a physical copy: https://amzn.to/48nGrsL (affiliate link)
Published Wednesday
1272: I Want a New Backyard, 2 Corinthians 8–13

1
Do you feel like you have a lot of "wants" right now, or are you feeling "abundant"? I want to talk this tricky balance today as we study 2 Corinthians 8:14!   Get our 365-day New Testament daily devotional book: https://amzn.to/3nYC821 (affiliate link)   Get your free copy of the simplified New Testament outline here: https://kristenwalkersmith.com/new-testament-simplified/    And grab Cali's scripture study guide here: https://comefollowmestudy.com/shop/ Discount code: OMSS Or for a physical copy: https://amzn.to/3ZwLIdP  (affiliate link)
Published Tuesday
1271: Cheerful givers needed, 2 Corinthians 8–13

1
Today we're studying 2 Corinthians 9:7 in just one minute! Grab your scriptures and let's dive into them together!   Get our 365-day New Testament daily devotional book: https://amzn.to/3BTEQfA (affiliate link)   Get your free copy of the simplified New Testament outline here: https://kristenwalkersmith.com/new-testament-simplified/    And grab Cali's scripture study guide here: https://comefollowmestudy.com/shop/ Discount code: OMSS Or for a physical copy: https://amzn.to/48nGrsL (affiliate link)
Published Monday
1270: BIG PICTURE MONDAY: 2 Corinthians 8–13

1
Listen to Big Picture to get the quick context for this week's reading, 2 Corinthians 8–13!   We'd like to thank our sponsors over at the Norman Book Series for supporting this episode. Get an additional 10% off the already super low prices on their Etsy site with the code OMSS10.  https://www.etsy.com/shop/NormanBookSeries    Grab Cali's scripture study guide here: https://comefollowmestudy.com/shop/ Discount code: OMSS Or for a physical copy: https://amzn.to/3ZwLIdP (affiliate link)   Get our 365-day New Testament daily devotional book: https://amzn.to/3nYC821   Get your free copy of the simplified New Testament outline here: https://kristenwalkersmith.com/new-testament-simplified/   
Published Sunday
1264: My Super Power Trial, 2 Corinthians 1–7

1
It's cliche, but I want to share one cool way I've learned to be grateful for my trials recently! Let's study 2 Corinthians 1:3-4 together.    Get our 365-day New Testament daily devotional book: https://amzn.to/3nYC821 (affiliate link)   Get your free copy of the simplified New Testament outline here: https://kristenwalkersmith.com/new-testament-simplified/    And grab Cali's scripture study guide here: https://comefollowmestudy.com/shop/ Discount code: OMSS Or for a physical copy: https://amzn.to/441qWUu (affiliate link)
Published 09/12
1263: We are enough because God is enough, 2 Corinthians 1–7

1
Today we're studying 2 Corinthians 3:5 in just one minute! Grab your scriptures and let's dive into them together!   Get our 365-day New Testament daily devotional book: https://amzn.to/3BTEQfA (affiliate link)   Get your free copy of the simplified New Testament outline here: https://kristenwalkersmith.com/new-testament-simplified/    And grab Cali's scripture study guide here: https://comefollowmestudy.com/shop/ Discount code: OMSS Or for a physical copy:  https://amzn.to/3PxUOUu (affiliate link)
Published 09/11
1262: BIG PICTURE MONDAY: 2 Corinthians 1–7

1
Listen to Big Picture to get the quick context for this week's reading, 2 Corinthians 1–7!   Grab Cali's scripture study guide here: https://comefollowmestudy.com/shop/ Discount code: OMSS Or for a physical copy:  https://amzn.to/441qWUu (affiliate link)   Get our 365-day New Testament daily devotional book: https://amzn.to/3nYC821 Get your free copy of the simplified New Testament outline here: https://kristenwalkersmith.com/new-testament-simplified/
Published 09/10
1259: "The Atonement", 1 Corinthians 14–16

1
I used to go to church to learn about the Spirit, families, tithing, family history, and Jesus. Not anymore! Let's study  1 Corinthians 15:14 together!    Get our 365-day New Testament daily devotional book: https://amzn.to/3nYC821 (affiliate link)   Get your free copy of the simplified New Testament outline here: https://kristenwalkersmith.com/new-testament-simplified/    And grab Cali's scripture study guide here: https://comefollowmestudy.com/shop/ Discount code: OMSS Or for a physical copy:  https://amzn.to/441qWUu (affiliate link)
Published 09/07
1257: Jesus isn't Waiting for Me to Change, 1 Corinthians 14–16

1
For the past few months, I've been picturing Jesus standing on the other side of all these changes I'm going through, waiting to embrace me once I can get through them. And then I listened to the words of a hymn and had a powerful realization. Let's study 1 Corinthians 14:33.    Get our 365-day New Testament daily devotional book: https://amzn.to/3nYC821 (affiliate link)   Get your free copy of the simplified New Testament outline here: https://kristenwalkersmith.com/new-testament-simplified/    And grab Cali's scripture study guide here: https://comefollowmestudy.com/shop/ Discount code: OMSS Or for a physical copy: https://amzn.to/441qWUu (affiliate link)
Published 09/05
1256: Your gifts are needed, 1 Corinthians 14–16

1
Today we're studying 1 Corinthians 14:5 in just one minute! Grab your scriptures and let's dive into them together!   Get our 365-day New Testament daily devotional book: https://amzn.to/3BTEQfA (affiliate link)   Get your free copy of the simplified New Testament outline here: https://kristenwalkersmith.com/new-testament-simplified/    And grab Cali's scripture study guide here: https://comefollowmestudy.com/shop/ Discount code: OMSS Or for a physical copy:  https://amzn.to/3PxUOUu (affiliate link)
Published 09/04